02/10/08 : The Canberra Times - "Canberra's underbelly"



There's another world below...
CAYLA DENGATE

Secret Squirrel and Guy Fawkes Tunnel are not in any Canberra visitors' guides, but for urban cavers they're huge attractions.

Below the concrete cityscape, crews of "urban cavers" track the stormwater drains, tunnels and unused bunkers to find the "mother of all tunnels", Secret Squirrel.

The term "urban caving" us used to describe a relatively new activity, where people use rock climbing and abseiling gear to explore stormwater drains. While cave clans are popping up across the country, police and emergency services are concerned this new phenonmenon will end in serious injury or death.

According to Wizard (not his real name), an urban caving expert and founder of the website urbantwilight.net, caving began in bigger cities but is spreading to places like Canberra.

"I went to Canberra a few years ago and there were a few people who were part of the cave clan, but it's growing,'' he said. ''It's as simple as people looking into a stormwater drain and wondering what's in there, it's that curiosity that leads you."

Wizard has been urban caving for 12 years, documenting trips with photographs depicting everything from cathedral-like spaces to winding, hand-built stone tunnels.

"There are some interesting sites down there, and I wanted to bring them to people who couldn't go down themselves,'' he said. ''From an urban history point of view, sometimes you can see layer upon layer of development in one stormwater drain."

He said the underground streetscape provided refuge from the city.

"It's very quiet down there, and dark, there will be little animals, sometimes bats, but generally it's a very peaceful place."

In the ACT, unused bunkers and war shelters are often spoken about on online forums.

Historian Peter Dunn said he grew up exploring World War II bunkers and ditches near his home in Queensland. He said the notion of urban caving in war-time relics was uncommon.

''I have only explored bunkers that are either above ground or semi earth-covered. There are many stories of tunnels from World War II full of Jeeps and Harley Davidson motor bikes probably 98 per cent of these stories are pure urban myths.''

Wizard said he always checked the weather report of the tunnel location, and the stream it fed from, to avoid a potentially lethal flash flood, but authorities said that wasn't enough.

''ACT Policing discourages anyone from entering confined or disused urban spaces where they may become trapped or injured, especially given that these types of places are difficult for rescuers to access,'' Australian Federal Police superintendent Matthew Varley said.

ActewAGL water field services manager Priscilla Ruddle said the sewer network should only be entered by qualified personnel.

''This is because it is a confined space and is liable at any time to have harmful levels of gases or depleted oxygen levels,'' she said. ''As sewage breaks down it produces hydrogen sulphide which, if inhaled at very low concentrations, can cause death.

''Sewer or stormwater flows can also change rapidly without notice, depending on the nature of the inflow, pumping schedules, rain events or planned activities such as flushing.''

Urban caving can also require people to enter private land to access the tunnels.

''If a person is found to be on private or government property without any authorisation they may be committing an offence of trespassing,'' Mr Varley said.



http://www.canberratimes.com.au/news/local/news/news-features/theres-another-world-below/1325523.aspx


Urbantwilight photo on the front page of the Canberra Times.
24/01/08 : Today Tonight - "Secret society... the Cave Clan"
| | |
| --- | --- |
| Paul Makin with Urbantwilight photos introduces the story | "Well, dirty, wet, and dangerous. Drains are more suited to rats cockroaches or ninja turtles. But believe it or not, there is a secret society that explores the tunnels and drains beneath our major cities. They call themselves the 'Cave Clan', and Today Tonight is the only media thats been allowed to film them..." |
| Tim Brunero from Livenews browses Urbantwilight. | . |
21/01/08 - 22/01/08 : Fortress deaths
Two graffiti artists tragically die when a storm hits fortress and washes them over 1km downstream and onto bars at the outfall. Amazingly a third member of their party manages to survive by squeezing through an opening made many years earlier by the drains discoverer, Predator. Questions are raised about the need for a lockdown of drains around the state. A media frenzy ensues, and photos from Urbantwilight.net appear on various news websites, MX, the Daily Telegraph, and Today tonight.
22/01/08 : Daily Telegraph - "Death Trap"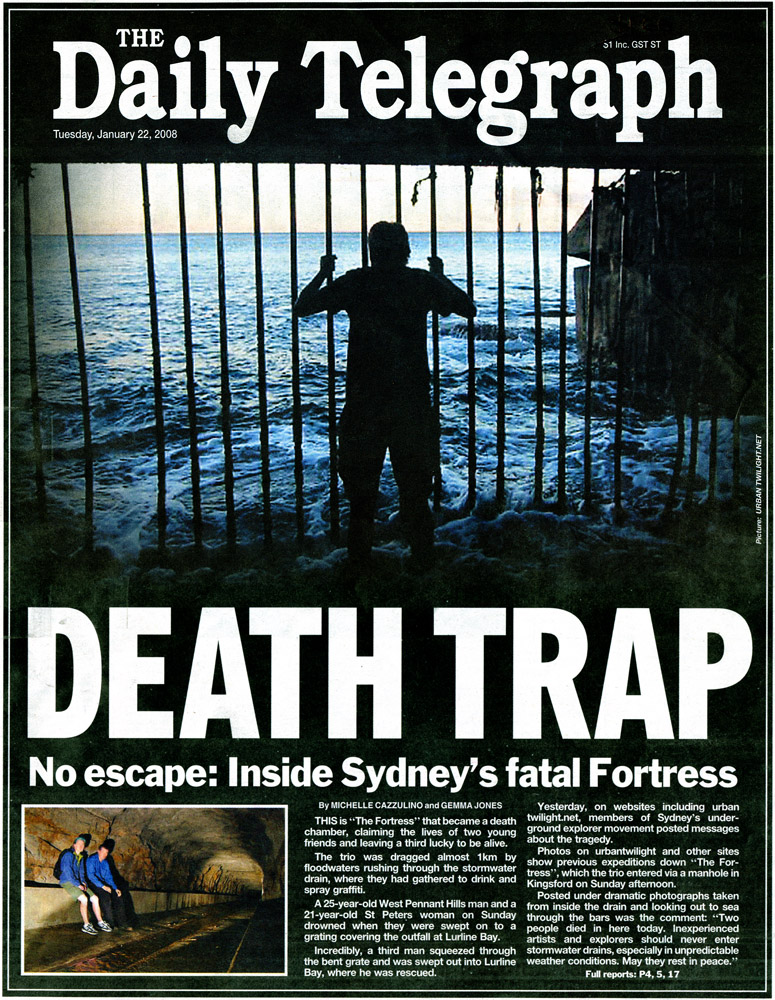 Urbantwilight photos used on the front page of the Daily Telegraph 22/01/08
MICHELLE CAZZULINO and GEMMA JONES

This is "The Fortress" that became a death chamber, claiming the lives of two young friends and leaving a third lucky to be alive.
The trio was dragged almost 1km by floodwaters rushing through the stormwater drain, where they had gathered to drink and spray graffiti.
A 25-year-old West Pennant Hills man and a 21-year-old St Peters woman on Sunday drowned when they were swept on to a grating covering the outfall at Lurline Bay.
Incredibly, a third man squeezed through the bent grate and was swept out into Lurline Bay, where he was rescued.
Yesterday, on websites including urbantwilight.net, members of Sydney's underground explorer movement posted messages about the tragedy.
Photos on urbantwilight and other sites show previous expeditions down "The Fortress", which the trip entered via a manhole in Kingsford on Sunday afternoon.
Posted under dramatic photographs taken from inside the drain and looking out to sea through the bars was the comment: "Two people died in here today. Inexperienced artists and explorers should never enter stormwater drains, especially in unpredictable weather conditions. May they rest in peace."

22/01/08 : Daily Telegraph - "Tunnel vision "

Photo of Predator's memorial in article about mysterious underground explorers

When it rains, no drains. That is rule No. 1 in the "art" of drain-exploring as outlined in the manifesto of Michael Carlton, aka Predator.

It is a short, snappy saying which could have prevented the tragedy which befell three young people who were trapped in a Sydney stormwater drain on Sunday.

"The last thing you want is to inflict the responsibility of rescue upon some poor SES member or fireman who really doesn't need to risk his life getting you out." Carlton wrote.
"To jeopardise the lives of such people is selfish and stupid."

22/01/08 : MX - "Let's Party"

Mx use Urban Twilight picture of Nivelo in the fortress outfal.

Fatal 'Fortress' a popular hangout.

This is The Fortress – the death trap where two graffiti artists drowned and another miraculously escaped on Sunday.

It is also the end of a deep 1km maze that houses cavernous rooms that are regularly used for parties by an underground community of "urban explorers".

The adventurers claimed yesterday they observed one critical rule: When it rained, no drains.

This was ignored by the trio, who were swept away after a sudden squall of rain flooded the drain. A man and woman were trapped against the bars that open on to Sydney's eastern beaches; the other man managed to squeeze through.

Entry to The Fortress is via a nondescript manhole. Underneath is a huge room with a concrete ledge used as a bar, decorated with graffiti, pictures of skulls and candles.

Local Josh Holland said: "It's ridiculous going down there when it's raiding. That's just asking for trouble."

Members of the underground explorer movement posted messages on the web about the tragedy yesterday.

On the website www.urbantwilight.net, under dramatic photographs taken from inseide The Fortress, was the comment: "Two people died in here today. Inexperienced artists and explorers should never enter stormwater drains, especially in unpredictable weather conditions. May they rest in peace."

Police are considering charging the survivor.

Melbourne councillor Fiona Snedden said she would seek a report from council officers this week listing any drains and tunnels in Melbourne that could pose a similar danger to underground explorers.

15/08/06 : Sydney Morning Herald - "Wizard's Urbex Website"
For those who appreciate an abandoned tunnel but don't want to crawl into one, try the Wizards Urbex website.

The Wizard is a member of the national network of Cave Clan groups who like to explore man-made underground facilities. He has posted some very good photos of abandoned sections of St James underground station, including the lake and World War II shelter.

The Wizard has also infiltrated the Bankstown bunker, the Wakt drain under the harbour and the Milsons Park rainwater pipe, which, of course, we encourage you not to do.


http://www.smh.com.au/news/column-8/column-8/2006/08/14/1155407740100.html
* Media and image reproduction enquiries may be directed to wizard AT caveclan D0T org. Please be aware that the Cave Clan currently has a media ban in place. Requests for interview will generally not be entertained.